Noticeboard
Tipitaka Sayadaw U Gandamala Lankara Dhamma Talk will be held at 359, TVA.
Time: 7:00 pm. to 9:00pm.
Date: 22 July , 2017, Saturday
10:30, 17 Jul 2017 by Tun Win

Dr. Than Htun Wai will conduct the scientific point of view seminar on existence of Mount Meru on Sunday, 30th of July 2017 from 1:00 pm. at 361 Tisarana Vihara. Seminar will last 1 1/2 to 2 hours.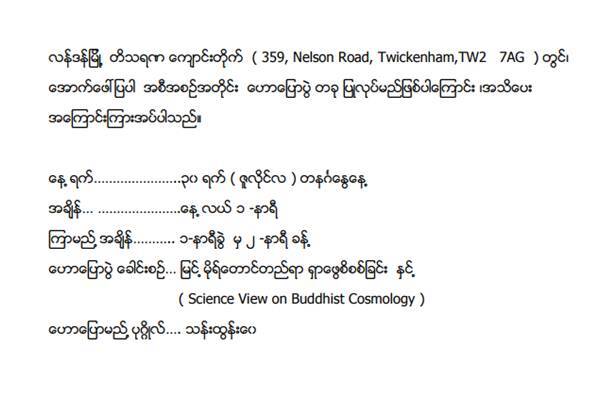 10:34, 16 Jul 2017 by Tun Win

TVA monks and volunteers provide Sunday school for childern of our community.
The scope ranging from teaching of Myanmar language to Buddhism basic.
For adults, TVA is conducting Abhidhamma and Visudhi Magga classes.
08:25, 16 Jul 2017 by Tun Win